ACAwise offers a complete ACA reporting solution for business organizations across many different industries with varying requirements. The White Label solution from ACAwise provides our clients with a reliable option for providing ACA reporting services to their clients with the added benefit of using their own company branding.
In this case study, we will provide an overview of how ACAwise streamlined the ACA reporting process for a large healthcare provider using our White Label solution.
About the Healthcare Provider
This healthcare provider has 40 years of experience delivering EHR (Electronic Health Record) solutions for community hospitals and clinics. They offer many other solutions, including data analytics and a collaborative support model.
They also provide a management suite that allows their clients to streamline scheduling, payroll, time, and attendance, complete with automation and
reporting tools.
Unique Requirements from this Healthcare Provider
This healthcare provider needed a comprehensive solution that would allow them to expand their services to include ACA reporting services. They wanted to offer this to their clients using their company branding. Their client base consisted of 20+ EINs, mainly hospitals, with over 3500+ employees.
Their unique requirements included,
Maintaining Brand Awareness

This healthcare provider was seeking a solution for providing ACAwise services to their clients while keeping their company branding the focus.

Managing Multiple EINs

The healthcare provider was responsible for the ACA reporting for numerous different EINs and needed a solution that could deal with the complexities of this.

Portal for Clients

The healthcare provider required all their clients to have access to a common portal where they can keep track of their ACA reporting.

Eliminating and Addressing Errors

Due to the high volume of ACA data the provider was tasked with handling, they needed a solution for identifying and eliminating errors.

Ability to Track Filings

With the high volume of clients and their data, tracking the status of their ACA forms efficiently was a major concern.

Recipient Copy Distribution

The healthcare provider was also tasked with distributing form copies to their clients' recipients and needed a cost-effective option to do so.
ACAwise's White Label Solution Emerged as the Ideal Choice
This provider needed a solution that was able to address and handle their many requirements when it came to completing their clients' annual ACA reporting.
After sharing their requirements and challenges with the ACAwise team, it became clear that ACAwise's White Label solution was the right fit for their organization.
Here is a closer look at how ACAwise was able to address and streamline the many reporting needs of this organization and its clients.
Providing a Custom ACA Reporting Plan
The ACAwise White Label option made it possible for this healthcare provider to manage all of their clients' ACA reporting processes while keeping their company branding visible at every stage.
Custom Portals

The ACAwise team created a portal for this healthcare provider to manage their ACA reporting services. This portal was completely customized to meet their branding requirements.

Additionally, ACAwise created a portal for the healthcare provider's clients. From their portal, clients can access, review, approve, and track all their ACA Forms.
"The customized portal we had was super awesome, serving our branding needs perfectly!"
- Benefits Admin, Healthcare Provider.
Multi-user Access

The provider was able to invite their staff members to access their custom portal and assist in the process of managing and tracking filings.

Customized System Emails

All emails that are configured and sent to the healthcare provider's clients throughout the process are completely customized with their company branding and contact information.
Advanced Security Measures to Protect Sensitive Data
Advanced data security was non-negotiable for this healthcare provider. They needed a provider that they could trust with the safety of their client's
sensitive data.
The provider was pleased to find that ACAwise places a high priority on data security. The company is SOC-2 Certified and safeguards all sensitive information using the most advanced technology available.
Increasing the Efficiency of the Reporting Process
ACAwise created a process that allowed this healthcare provider to eliminate the complexities and hurdles that had been slowing down the reporting process. This was done using the following features.
Simple Options for Data Import

The provider was now able to import all of their clients in bulk using either the ACAwise template or their own.

Extensive Data Validations

Once all of the data was imported, the ACAwise team performed a series of validations. This included Data Integrity Checks, TIN Matching, and USPS Address Validations to ensure accuracy.

Form Generation

Using the data provided, ACAwise generated the ACA 1095-C forms for all types of employees (full-time, part-time employee) and all types of coverages (ICHRA, COBRA) accurately.

ACAwise also shared the generated forms with the healthcare provider and their clients for their review and approval.
- Benefits Admin, Healthcare Provider.
Maintaining their Clients' ACA Compliance
Through this process, ACAwise ensured that the health provider and all of their clients were able to complete all of their reporting requirements with success.
IRS Filing

After generating the ACA 1095-C forms for all of the employees, ACAwise e-filed them with the IRS.

Postal Mailing

All form copies were mailed to the client's employees in a timely and accurate manner.

Online Access

The healthcare provider, their clients, and their employees were provided with an online portal where they can access and download the form copies.

Status Updates

The provider and their clients were all able to receive real-time status updates on the ACA Forms that were transmitted. These notifications are available through the portal and by email.

ACA Corrections and Rejections

In the event that forms are rejected by the IRS. ACAwise offers solutions for addressing these errors and filing corrections as needed.

In the event that ACA forms are accepted with errors, the healthcare provider and the respective clients were given the option to provide us with the corrected data so that we can file the corrected ACA forms.

Record-Keeping

ACAwise maintains all the filing data of the healthcare provider and their clients for up to 7 years for record-keeping purposes.
"All our clients were extremely happy as they met their ACA reporting requirements conveniently! Thanks to ACAwise"
- VP, Healthcare Provider
Project Timeline
ACAwise team creates the timeframe for each stage before kick-starting the process, thereby making sure that the entire reporting process flows without any obstacles.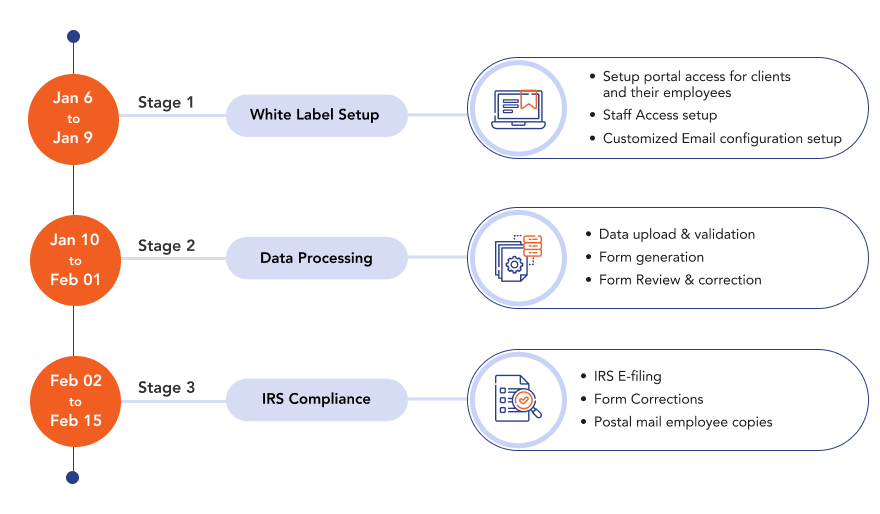 After having a successful start with ACAwise, the Health Care Provider now relies on ACAwise to take care of every aspect of their ACA reporting services. And, ACAwise continues to help them extend their branding through White Label Solution!