Experience our End-to-End
ACA Reporting Services
ACA 1095 Codes Generation
1094 and 1095 Form Generation
IRS and State E-filing
Employee Copy Distribution
ACAwise takes the risk out of your ACA 1094/1095
Reporting through a clearly defined process
Data Handling
Our comprehensive software accepts and handles your data securely in multiple ways, such as file upload, API, custom programming, and stores in our HIPAA compliant server.
You can also upload data either using the ACAwise template or your own template.
Data Validation
To ensure the returns are accurate for transmission, ACAwise validates your data against mandatory fields, IRS business rules, data integrity checks, TIN matching, XML schema validation, and USPS address validation.
Data Correction
The Errors identified during data validation will be sent to you with our recommendations. You can make corrections to the data quickly and easily using the ACAwise correction template.
Generate Codes & Forms
ACAwise will accurately generate your 1094 and 1095 Forms with required ACA codes based on the data you provided that adheres to the current IRS ACA regulations.
We also handle special cases like COBRA coverage, ICHRA, rehires, termination, and age bands.
Form 1094 & 1095 Review
We will send the generated Forms for your review & approval to e-file with the IRS.
Forms will be provided for your review in both a downloadable version and in an excel template.
Correct Errors & Approve forms
While reviewing, if you find any errors, you have access to correct them. We will then regenerate your forms and send them again for your approval. Once you approve, ACAwise will continue with the IRS e-filing.
E-File with the IRS
Once we get your approval, we will convert your Forms into the IRS acceptable format and transmit your 1094 and 1095 information returns to the IRS. We will also notify you about the status of your filing.
State E-filing
ACAwise will also take care of e-filing the forms with states such as New Jersey, Massachusetts, California, District of Columbia, Rhode Island, and Vermont that have passed individual state mandates.
Few other states such as Connecticut, Hawaii, Maryland, Minnesota, and Washington are also considering individual mandates for their states. Learn More
Employee Copy Distribution
ACAwise takes care of distributing your employee copies via postal mailing and secure online portal before the deadline and helps you stay ACA compliant.
To ensure the employees receive their copies at the correct address, we will also validate employees' addresses using USPS validation.
ACA Reporting Services


Built Just For You
ACA Form Corrections & Amendments
Form Corrections
Form 1095s accepted by the IRS with errors can easily be corrected with ACAwise. We will keep you informed of any errors that occur, and help you correct & retransmit these returns.
Amendments
Need to correct your employee's coverage information or report more 1095 Forms? No problem! ACAwise lets you correct, update, and even amend your Transmittal Form 1094.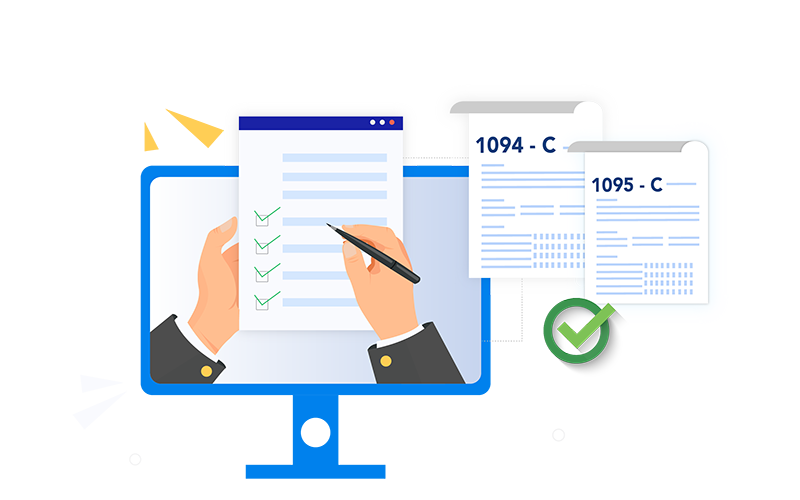 ACAwise supports Form 1094/1095 corrections for
3 prior years
Industries We Serve
Insurance/Benefits
Real Estate
Counties &
Cities
Nonprofit Organizations
Financial Institution
Logistics
Educational
Institutions
Manufacturing
Trusted ACA Filing Software, as featured in



A Quick Guide for Employers
ACAwise has created a Free guide to help applicable large employers to know 2023 ACA Reporting Requirements
and ACA Codes better.
ACA Reporting Requirements for 2023
ACA Code Cheatsheet for 2023
Ready to stay tax compliant with ACAwise?
Request a quote today for ACA Reporting Services.