ACA Reporting Services


Built Just For You
Trusted ACA Filing Software, as featured in


ACAwise takes the risk out of your ACA 1094/1095
Reporting through a clearly defined process
Data Handling
Our comprehensive software accepts and handles your data securely in multiple ways- file upload, manual input, custom programming, and stores it in a HIPAA compliant server.
Data Validation
To ensure the returns are error-free for transmission, ACAwise validates specific data including mandatory fields, IRS regulations, Schema validations, USPS validation, and TIN Matching.
Error Correction
The Errors identified while data validation is sent to you with our observations. ACAwise also offers a correction template that helps you to make corrections to the data quickly and easily.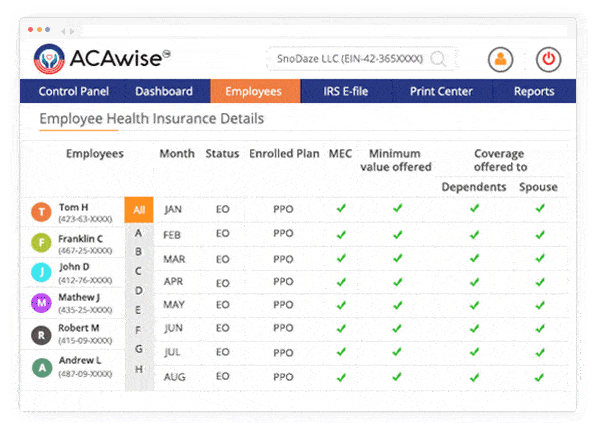 Generate Codes & Forms
If the ACA codes are not available in the data you provided, ACAWise itself will generate the 1095 forms and codes. The solution also handles exceptional cases like COBRA coverage, rehires, and age bands.
Form 1094 & 1095 Review
The generated forms are available for review before transmitting to the IRS. You or your staff will have access to review the Forms. Forms will be provided for review in a downloadable version and in excel template for you to review.
Correct Errors & Continue with IRS E-file
While reviewing, if you find any errors, you have access to correct them. The forms will then be regenerated by us and sent again for you to check. If everything is right from your end, ACAwise will continue with the IRS e-filing.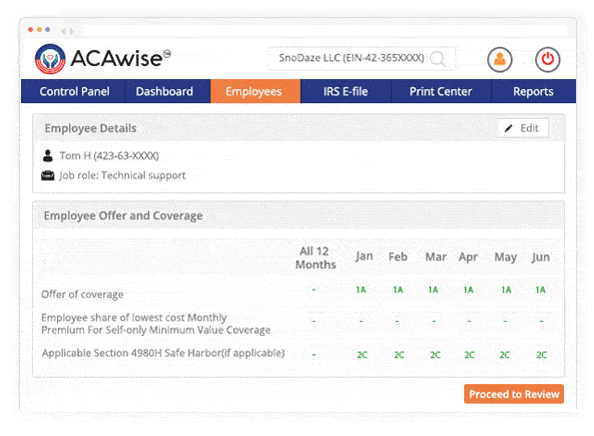 E-File with the IRS
Once we get your approval, we will convert your Forms into XML format and transmit your 1094, 1095 information returns to the IRS. We will also notify you about the status of the filing.
Print & Postal Mailing
ACAwise is capable of handling high volume print and mail service. Therefore, we will take care of mailing your employee copies on behalf of you before the deadline. We validate the employees' addresses in the Forms using USPS validation to ensure they receive their copies at the correct address.
Form Corrections
If there are any rejections from the IRS, we provide you the reason for rejection & the option to correct & retransmit the return to the IRS.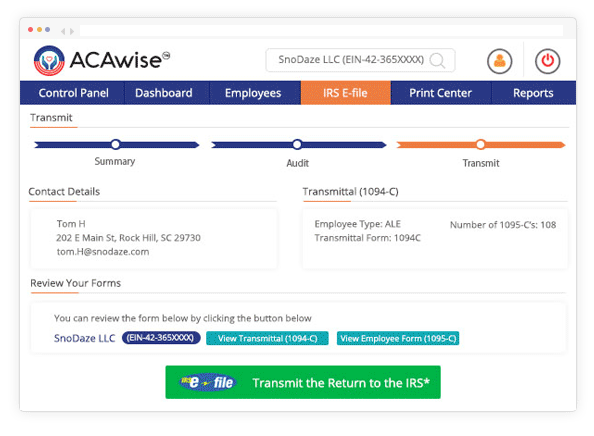 ACA Form Corrections & Amendments
Form Corrections
Form 1095s accepted by the IRS with errors can easily be corrected in ACAwise. We keep you informed of any errors and help you correct & retransmit the returns.
Amendments
Need to correct your employee's coverage information or report more 1095 Forms? No problem! ACAwise lets you correct, update, and even amend your Transmittal Form 1094.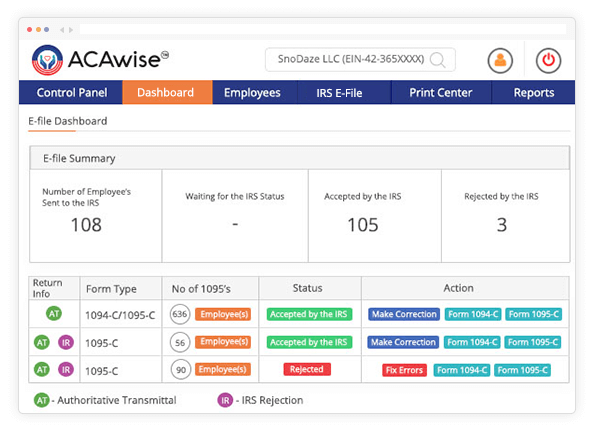 ACAwise supports Form 1094/1095 corrections for
3 prior years
Industries We Serve
Educational
Institution
Real Estate
Counties &
Cities
Nonprofits
Financial Institution
Insurance/Benefits
Our ACA compliance and e-filing experts are ready to answer any questions you may have.
We're available via phone, live chat, or email.